What Home Buyer Hopefuls Want From Agents and Lenders
August 18, 2017 | by Guest Posts
Categories: First Time Buyer, Home Buyer Education, Homeownership
Tags: down payment resource, home buyer
This is a guest post by Down Payment Resource , the nation's only database of home buyer programs. This post first appeared on Down Payment Resource's blog on April 12, 2017.
In a new Down Payment Resource survey of 750 future home buyers, 85 percent said they were looking to buy a home in the next six months. But while the current median down payment for a first-time buyer is only 6 percent, 65 percent of respondents said they think it will be moderately to extremely difficult to save for a down payment.
Below are some additional takeaways from the survey:
Education is important for future homebuyers
Today's buyers are more eager to take home buying education into their own hands.
In fact, 72 percent of the respondents said they plan to complete an online or in-person home buyer education course. And more than 50 percent have already researched down payment programs.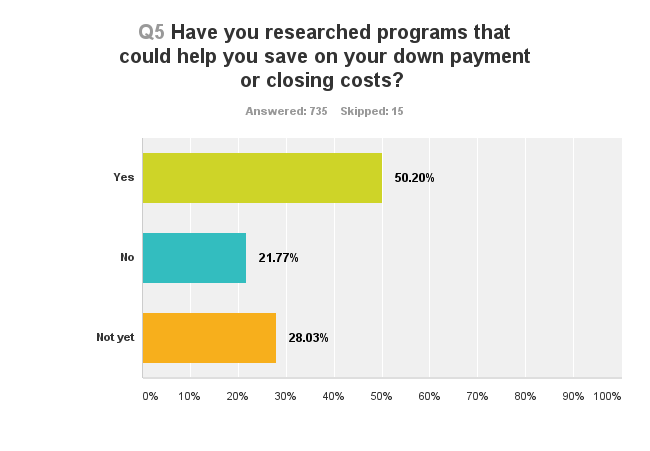 Reducing financial stress
Down Payment Resource also asked future home buyers to indicate their stress level across nine key financial categories.
Respondents said credit score, retirement and credit card bills ranked highest (stressed, very stressed or extremely stressed) as a source of stress.
Future home buyers were least stressed about their job and healthcare. And, 80 percent said they would or may be interested in using an online financial wellness tool to help improve their stress levels.
How can agents and lenders help future homebuyers?
Agents and lenders are still gatekeepers in many cases. By opening the gate to information including down payment help and mortgage choices, you are building buyer trust.
Future home buyers also want valuable information from experts. A whopping 92 percent want information on down payment programs from their agent or lender. Would-be buyers are also interested in information about mortgage options and the home buying process.
Get all the survey highlights.
---
On the House blog posts are meant to provide general information on various housing-related issues, research and programs. We are not liable for any errors or inaccuracies in the information provided by blog sources. Furthermore, this blog is not legal advice and should not be used as a substitute for legal advice from a licensed professional attorney.
Comments
Leave a Comment
TSAHC reviews all blog comments before they are posted to ensure a positive experience for our online community. Off-topic comments; hostile, derogatory or deliberately insulting comments; and comments specifically promoting goods and services will not be posted. For more information, please see our Comment Posting Guidelines.