Disabled Veteran Receives Donated Home in Weslaco
June 4, 2014
On Wednesday, June 4th, Patricia Romero Horner, a disabled U.S. Military Veteran, received a mortgage-free home in Weslaco, Texas. Ms. Horner is the latest veteran to benefit from TSAHC's Affordable Communities of Texas- Veterans Housing Initiative (ACT-VET). TSAHC's ACT-VET program is part of a nationwide, multi-partner initiative whose purpose is to rehabilitate vacant homes to provide affordable homeownership opportunities for disabled veterans.
Bank of America generously donated the home, in partnership with the National Community Stabilization Trust. TSAHC partnered with Weslaco nonprofit Motivation, Education and Training, Inc. (MET) to perform the necessary repairs on the home and connect Ms. Horner to the program.
Retired Staff Sergeant Horner is a decorated veteran of the U.S. Army, where she served honorably from 1978 to 1987. She received numerous awards during her military service including the Army Commendation Medal and the Army Achievement Medal. In 1987 she was honorably discharged after suffering a service-related disability. Her disability left her unable to work and unable to pursue her goal of becoming a police officer. "I can't believe I will finally have a home to call my own," said Retired Staff Sergeant Horner. "I always dreamed of being a homeowner but didn't think it would be possible. I want to thank everyone who helped turn my dream into a reality."
Below are links to local news stories covering the event:
http://www.themonitor.com/news/local/army-vet-becomes-homeowner-after-foreclosed-house-donated/article_391dcdd6-ec60-11e3-9a00-001a4bcf6878.html
http://www.brownsvilleherald.com/news/valley/article_06d73cf2-ec5d-11e3-b628-0017a43b2370.html
Click here for a copy of the press release.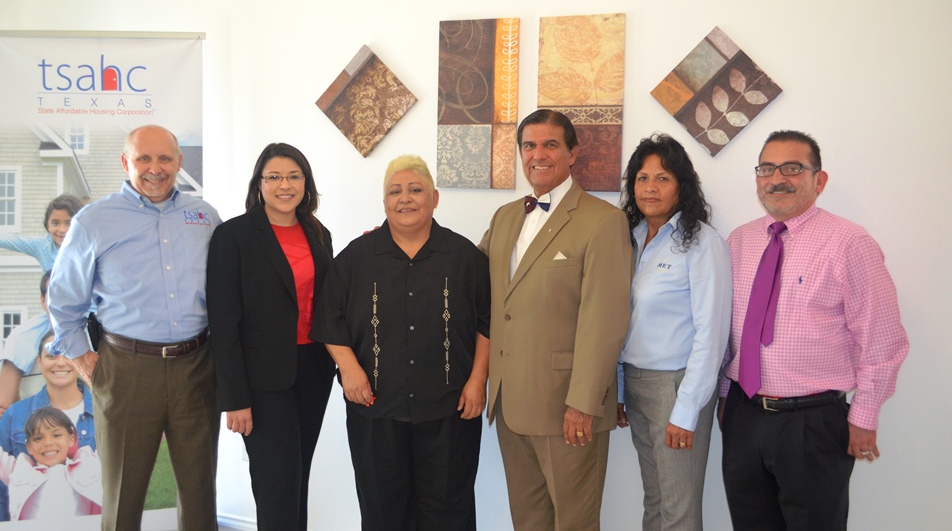 Pictured left to right: TSAHC President David Long; Liliana Trevino, Bank of America Banking Center Manager; Veteran
and new homeowner Patricia Romero Horner; State Senator Eddie Lucio; Beatriz Farias, MET Housing Services Coordinator;
and Weslaco Mayor David Suarez.